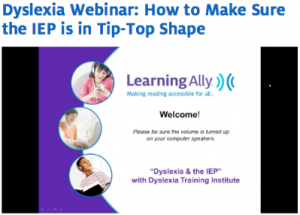 On Tuesday, February 25th, 2014, Dr. Kelli Sandman-Hurley and Tracy Block-Zaretsky presented Dyslexia and the IEP:  How to make sure your IEP is in tip top shape, a webinar hosted by Learning Ally.  
The webinar focused not only on getting the right goal for students' needs and making sure that clear and appropriate measurable goals were included.  You can watch the free webinar below or on the Learning Ally site and download a copy of the slides used in the presentation here.
We encourage you to visit Learning Ally for resources and archived webinars on dyslexia, special education, and more.