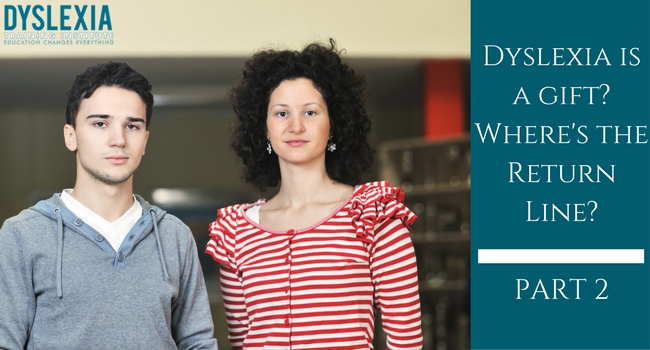 In a previous blog post I laid out my reasons for why I do not believe dyslexia is a gift. In that blog post I specifically stated that many students with dyslexia will be successful because of their resilience and because of the support they received, while pointing out that many many kids don't have that support, which was, and is, my main point. Many people chose to ignore that sentence and instead respond to something I did not say, which is that kids with dyslexia will never amount to anything. But for the most part, you all agreed with me, at least to a degree. So, as I started to really reflect and read and reread all of the responses, it got me thinking about resilience and support. Then it dawned on me that there was one important point I did not make and that is to describe a situation when dyslexia is a gift.
Here's the deal.  DTI has spent the last two months traveling this great country of ours training teachers from all types of schools and school districts, from the schools with unlimited resources to title 1 schools to very rural districts and everything in between. We decided to collect data during our travels about what our teachers have been taught about the English writing system. At the beginning of each training, and before we said anything, we asked each teacher to write down the definitions for the following questions:
What is dyslexia?
What is a morpheme?
What is a grapheme?
What is a phoneme?
What is a syllable?
The Results
It seemed reasonable to us that those charged with teaching literacy to our students, at the very least, would be familiar with these terms. So, what was the reality? We collected over 400 responses and over 90% of the teachers could not answer the questions with accuracy. Here are some examples: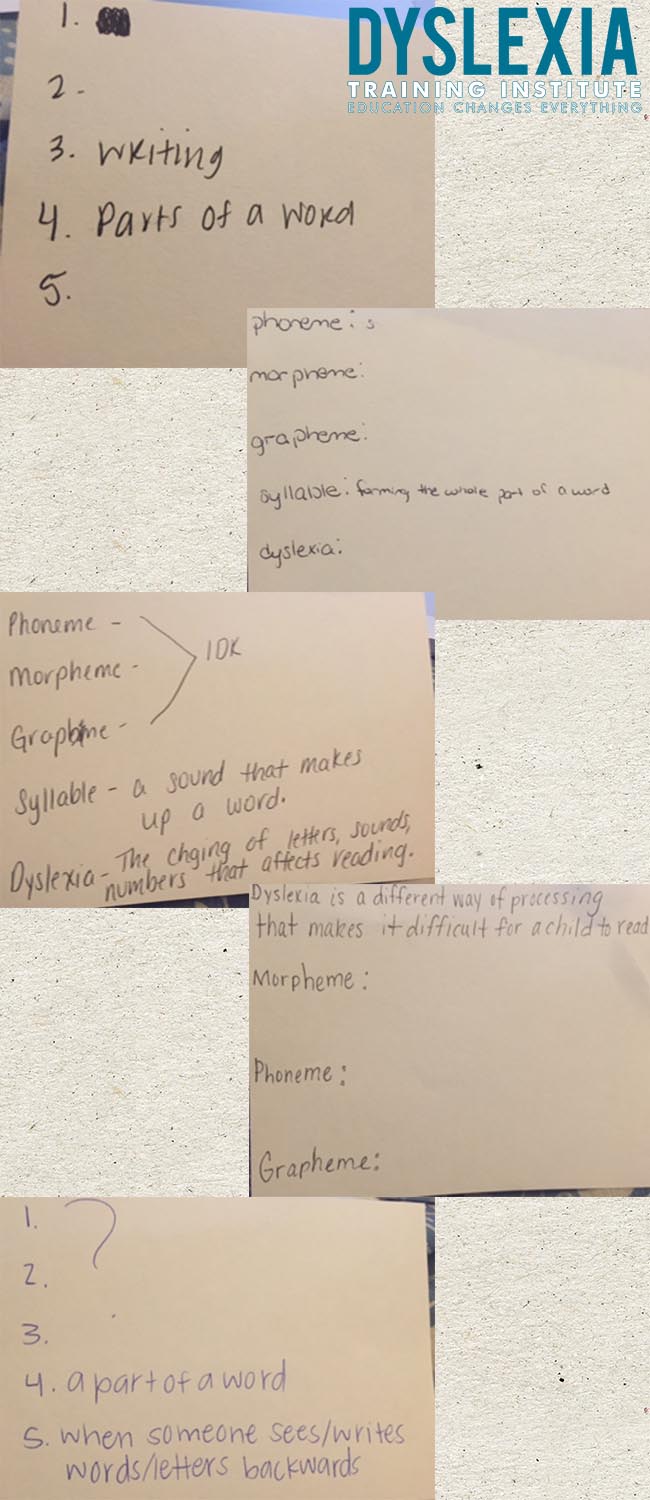 Is this a public shaming of the teachers who wrote these responses? No, but it is a public shaming of those who train our fabulous teachers. This includes our universities, curriculum developers and yes, even Orton-Gillingham trainers.
Now, back to the topic at hand. I have heard some trainers state that they did not think those who use their program can handle that kind of terminology, so they purposely leave out appropriate linguistic terminology. I have also heard multiple teachers state that students cannot handle that kind of terminology.  This irks me the most, because I was a victim of this practice and when I was finally introduced to the truth about the English writing system I was brought to tears. I was brought to tears because I felt like I had been robbed, robbed of understanding my own language and robbed of being able to properly teach it to my students. And as I dug deeper, I realized that those questions above were just the tip of the iceberg, grammar was also sorely missing from my training. I would like now add to those questions: What is an inflectional suffix and a derivational suffix and how do they impact reading and spelling? Quite frankly, until educators, at all levels, can answer those questions, we are cheating our students, all of our students.
Think about this, what is one of the main predictors of student success? High expectations from teachers, and not just for kids with dyslexia. Our professors need to expect our teachers to understand these concepts and our teachers need to expect our students to understand these concepts, because they are all capable of it. What could be worse for a struggling student than having a teacher who can't answer their questions about English? Knowing this information would be productive across the entire curriculum, not just reading and spelling and not just kids with dyslexia. That is why the dyslexia is a gift construct falls apart, it's not the student's fault, it's our fault.
How do we give this gift of dyslexia back to those with dyslexia? We teach our teachers how the English writing system actually works and give them the understanding they need to answer tough questions about words and then guess what, dyslexia just might become a gift and it would be a gift for all kids with dyslexia.
Save
Save