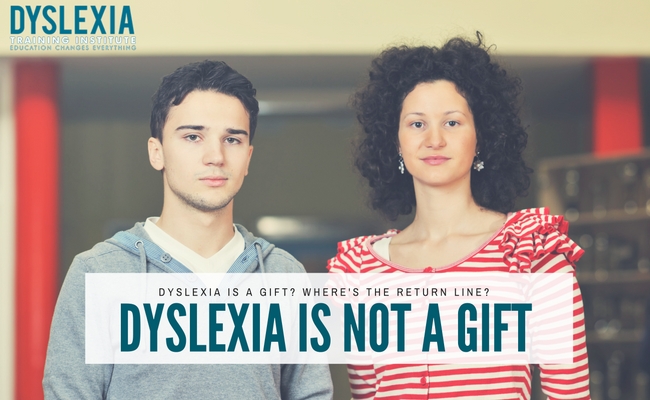 I've had something on the tip of my tongue and burning a hole in my brain for years now and it seems like it's finally the time to let it out. This blog post won't make me any friends and I am totally okay with that. Dyslexia is not a gift. It just isn't.
Dyslexia is Not a Gift
Students with dyslexia are not going to be successful, creative geniuses because they are dyslexic. They are going to be successful, creative geniuses because they are resilient, have support from community and family, are smart, and like the rest of us, found something they love. The books written about those who are uber successful have super supportive families or someone in their life who took an interest. Or they had the means. That is not the norm, that is the upper middle class view of dyslexia. It promotes a false narrative to all those kids who don't have the support they need, or the resources. These are the kids who are sitting next to the kid I am advocating for, you know, the kids who don't have an advocate.
Here's the thing, I've worked with many, many students, adults and children, over the last twenty years and NOT ONE of them thought or thinks dyslexia is a gift. The adults I worked with in adult literacy didn't become movie directors, billionaires, artists or famous actors. They became under employed, under educated and sometimes incarcerated adults. They take a hit to their self-esteem and a hit to their ability to be self-sufficient. They cried in my office, they didn't rejoice. The vast majority of them came from low socio-economic homes with little support and many times with parents who also didn't have the literacy skills needed to excel. They are fearful and anxious that their kids will also suffer in school, and yes they will use the word suffer.
Look, I'm out there, I have had my boots on the ground for over 20 years. You know what I see? I see parents crying in IEP meetings. I train teachers flabbergasted that they don't already know what I am teaching them. I see kids developing depression, anxiety, behavior problems and more. They would all give back their dyslexia if given the chance.
My perspective is built on my experience with multitudes of people, not a select few. I have worked in low socioeconomic neighborhoods and don't even get me started on the kids for whom English is not their first language. I'm working with these students, I'm sitting in countless IEPs, I'm training teachers, and if we want to be taken seriously we have to continue to describe the toll of a failure to remediate and a failure to identify dyslexia really takes on a student and their family.
I have put my money where my mouth is by going to my state legislature and going to Capitol Hill. I know that promoting a dyslexia sperm bank hurts those of who try to be taken seriously by policy makers. We have to remember that his message is largely begin supported by those with the resources to help their children or themselves. But I'm here to tell you, it's not reality and it's far beyond the your neighborhood. So, stop it.
Save
Save