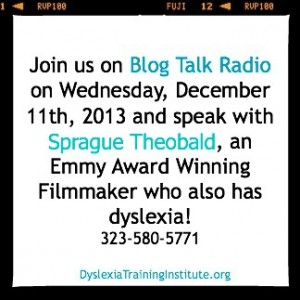 Download the PDF version of this article here.

Please join us for a discussion with Sprague Theobald on Blog Talk Radio on Wednesday, December 11th at 1pm EST. Mr. Theobald is a an emmy award winning documentary filmmaker who also has dyslexia and a story to tell.  We cannot wait to talk with him!
According to his website, Sprague Theobald has received both national and international recognition for his writing, producing, cinematography, and editing. He won an Emmy Award for his America's Cup documentary. As a successful documentarian, he and his production company, Hole In The Wall Productions, have worked from Alaska to Zanzibar.  His writing and commentary have been published in The New York Times as well as many major national and international yachting magazines.  Sprague spent several seasons as a staff writer for two of the Showtime Network's episodic shows and worked as a successful screenwriter in Los Angeles. Sprague worked both in front of and behind the camera as a broadcast journalist/producer for eight years at an NBC affiliate.  The Other Side of The Ice is Sprague's second book; The Reach is his first. Sprague's sailing résumé includes twelve-meter racing in the America's Cup arena, several transatlantic races, one of which was the Two Man Transatlantic Race, a complete circumnavigation of North America, and over 40,000 offshore miles. He lives and works out of Manhattan, New York.
Call in and talk with Mr. Theobald, Dr. Kelli Sandman-Hurley, and Tracy Block-Zaretsky at 323-580-5771 on Wednesday, December 11, 2013 at 1pm EST!