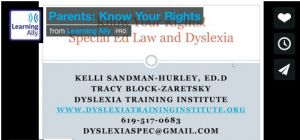 In September 2013, Dr. Kelli Sandman-Hurley and Tracy Block-Zaretsky presented a webinar designed to educate parents about the special education laws and how the relate specifically to dyslexia.  The webinar, sponsored and hosted by Learning Ally, explains the IDEA, IEPs, 504s, accommodations, and more.
You can listen to the audio presentation below or on the Learning Ally site where there are also answers to some of the questions that audience members had during the talk.  The presentation PDF, a sample letter, and a guide to abbreviations can also be downloaded for reference.
Education changes everything and, with the right information, parents can be better prepared to advocate for their child.